When I decided to start The Long Push, back in November last year, I chose to support an autism charity because of the huge impact that autism has directly had on our lives, and because I want to help a young charity that has supported us to grow, so as to help more families. At the time, distance skating was new to me. I was aware of it, but had no idea how many other skaters/longboarders I was going to come across who had also decided to push long distances for charity this year. I've been in touch with a few of the guys who are doing these rides and just realised that the first of the three journeys I'm going to mention here begins on June 11th! Let me tell you more, but first a bit about the reason for the these journeys.
Whilst autism is a lifelong condition, cancer kills. Plain and simple. It doesn't deferentiate. It just takes lives and leaves empty spaces where loved ones once lived and laughed. Many of us have lost friends or family members to cancer and sadly. so will many more. A friend of mine lost her battle a few years ago now. She was younger than me when she died and is sadly missed by all her friends and family. Recently, Adam Yauch, MCA of the Beastie Boys lost his life to cancer, and whilst it's easy to mourn the loss of celebrities that we may have loved as fans of their music, it's when you see a photograph like this that the true cost of cancer hits home...
Adam Yauch (MCA) of the Beastie Boys - R.I.P.
So this year, longboarders in groups far and wide are doing what they can to raise cancer awareness and raise money for different cancer support charities. Here I've listed three that I know of...
*IF I'VE MISSED YOU OUT OF THIS POST, PLEASE CONTACT ME ASAP WITH DETAILS OF YOUR JOURNEY AND I'LL INSERT THEM STRAIGHT AWAY!*
LONGBOARDING 4 CANCER (Sweden)
We are two guys, Oscar Hagman Jaråker and George Hajjar, both of which have been affected by cancer's impact throughout our lives, and will now travel through Sweden on our longboards to make people aware about cancers impact in everyone's life. We will be doing this by traveling from town to town through Sweden, and in every city, we will be doing something, from hugs in the city to major events. We will begin in Treriksröset on June 11th and end in Malmö, after a visit to Smygehuk, a journey of some 285 miles.
We will not travel around and preach about how you can take care of yourselves, but we want to inform you how you can help yourself and others, and in various ways prevent cancer. But the important thing is how you can help each other once someone has been affected in some way by cancer.
We do not do this for our own benefit or to seek people's sympathy. We do it to take part of peoples' life's and change future life's. Our purpose is not to preach about us. We are there to listen to others and share experiences, good and bad. Few people understand that it can happen to anyone, not only friends and family but also yourself.
The whole journey will be documented on our website in both text and video through YouTube, Blog, Twitter and more.
Web page:
http://longboarding4cancer.se/
E mail:
longboarding4cancer@gmail.com
Twitter:
@L4ContheGO
THE LONGBOARD CRUSADE
The Longboard Crusade is a charity fundraiser event for Cancer Research that involves a group of friends longboarding from Jarrow, Tyne & Wear to The Marble Arch, London. The journey will take place on the 16th of July 2012, and is estimated to take 12 days.
Here is the route we will be taking:

1. Jarrow to Ferryhill 24 mile
2. Ferryhill to Northhallerton 28 mile
3. Northhallerton to Harrogate 28.5 mile
4. Harrogate to Wakefield 24.5 mile
5. Wakefield to Sheffield 23 mile
6. Sheffield to Mansfield 24 mile
7. Mansfield to Loughborough 30 mile
8. Loughborough to Market Harborough 26 mile
9. Market Harborough to Bedford 35 mile
10. Bedford to St Albans 30 mile
11. St Albans to Marble Arch 20 mile


Our inspiration came from local history, the Jarrow Crusade. We are hoping to follow the original route of the Jarrow Crusade a
s closely as possible; The crusaders taking part: Scott Bullock, Chris Bullock, Kyle Raine and Kristian Horn. With the Production and PR skills from Jake Gauntley and Austin Lewthwaite.
Any support is welcome, if it's charitable or even just spreading this page. Even the smallest donation will be hugely appreciated. If you would like to make a donation please visit:
Just keep the four wheels down and let's skate tomorrow, man.

Thank you!
LONDON TO CARDIFF LONGBOARD 2012
In the summer of 2012, six Longboarders will undertake a country traversing mission, from London to Cardiff, to raise money for charity.Completely self-supported, we'll travel approximately 180 miles in four days. Pushing our boards whilst bearing the load of our equipment/tents, skating 45 miles a day and only stopping to nurse our blisters.The cause is an obvious one, everybody knows somebody who has been affected by cancer, chances are Macmillan were there to help.
Macmillan Cancer Support improves the lives of people affected by cancer. They provide practical, medical, emotional and financial support and push for better cancer care. One in three of us will get cancer. Two million of us are living with it. We are all affected by cancer. We can all help. We are Macmillan.
We're looking for our friends/family/fellow boarders to be as generous as possible, £10.000 is a big figure but if everybody digs deep, it's more than achievable.Thanks for taking the time to read this.
Steve, Leo, Oli, Will, James and Matthew.
This last event is not longboarding, but it is another skater, Martyn Oliver, doing something for Macmillan...
SPONSORED VERT DROP IN on the 30th June 2012 from 9pm until 12 midnight at RAMP CITY WSA. BLACKPOOL.
I am planning an event to raise funds for macmillian cancer care. My mother has struggled with parkinsons desease for approxamatly 2years now and also has a spinal cortex desease however 6/8weeks ago my mother was diagnosed with bowel cancer. The reason i chose to raise funds for cancer is because my mother and father are in the eden valley hospice lottery and Last week he won £10 after nearly 20 years of being in the lottery so if he can get back £10 after 20years surely we can raise more than that in the space of a month or so? I have chosen to drop in on a vert ramp that is based in blackpool ar rampcity. I have skated for roughly 20 years on and off and have never skated any structure bigger than roughly 10ft or so the ramp im choosing to drop in on is 13ft high and is at RampCity at Blackpool. This might sound a bit silly to some of you or easy to others. But having stood ontop of this ramp many times and walked away from it from the sheer height of it and also knowing my fear of heights i think this would be a great way to raise funds for macmillian cancer in unique way. There will be a small cost on the door which has been arranged with RampCity that a substantial amount will be donated straight to my charity. The event will now include a BBQ and raffle at a small cost, which you will all see is going to raise far more money than previously expected.
Ok now to tell you what the funds would help raise.
The money we raise will not only go towards helping Macmillan cancer fight cancer and raise awareness but also other organisations such as "hospice at home". This group is ran by Registerd Nurses who come into you home to allow for the carer to have a nights rest. They basicaly sit in your house and allow you to peacefull rest of sorts.
Sadly, since I wrote the words above my mother went to a nicer place on the 14th of May 2012, after many years battling a number of illness laterly including cancer.
So please dig deep and donate now at
http://www.justgiving.com/Martyn-Oliver
where you can also read more.
*NEW ADDITION TO POST 30TH June*
BOARDING END TO END - LONGBOARDING FROM LANDS END TO JOHN O' GROATS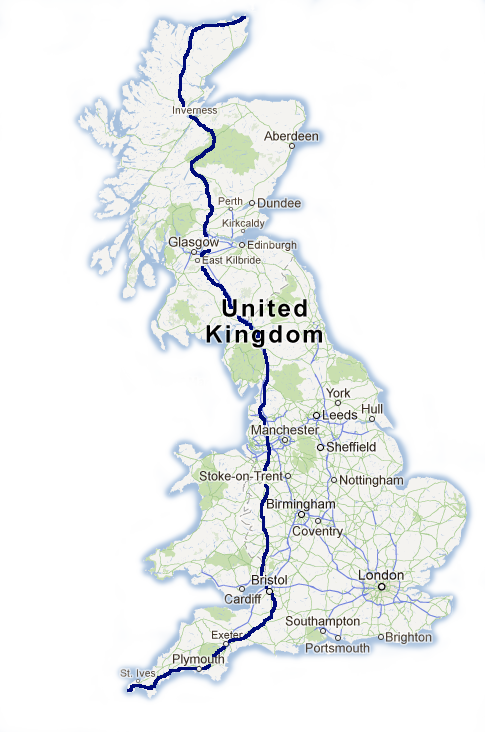 At the beginning of July Alfie Wiener and Jamie MacDonald are going to Longboard from Lands End to John O' Groats for Charity. Alfie explains more...
"We are doing this for two charities called Whizz Kidz and Teenage Cancer Trust. We are going to try and complete this trip in about 25 to 30 days by skating about 35 to 45 miles in a day.
RollsRolls are the company that make the board that we are using, they make very high quality wooden and carbon fibre boards. Unlike most longboards that are made using machines these boards are hand made in Germany. This means that they are much higher quality and therefore last longer. My original intentions were to do the trip on a carbon fibre Sportster but they persuaded me to use a woody as the flex from the beech deck would provide a far more comfortable platform to skate on.
The Deck- RollsRolls Woody
Trucks- Randal RII 180
Wheels- Abec 11 97mm Flywheels
Bearings- Bones Swiss Ceramics
Bushings- Venom Downhill 81a – 87a
We will be raising money for two charities and splitting the money raised equally between the two. You can sponsor us via the donate page which will take you to the virgin money page that we have set up.
Whizz kidz is the first charity that we have selected. We attended one of their ambassadors receptions and we were blown away by the way that the children spoke about the charity and how much it meant to them. It is a really good cause and if you want to find out more please check out their website.
Teenage Cancer Trust is the second charity that we are raising money for. They are a great charity that helps teenagers and young adults who are suffering from cancer. They provide support for the families of those who have cancer, they build specialist wards for teenagers with cancer, they fund research into how cancer can be combated and loads more. For more information please take a look at their website.
Teenage Cancer Trust
Please sponsor us and donate money to our two charities. All donations will be much appreciated and will help us reach our target of £10,000. For more information on the charities that we are supporting then please take a look at the charities page."
For more detailed information on the boys amazing journey, go here
http://www.boardingendtoend.co.uk/
To donate to the boys charities go click here...
Alfie and Jamie's Fundraising Page
JULZSK8S-NORTHWEST - HUNTINGTON BEACH TO OREGON

This is a TRULY EPIC skate journey! This summer, 20 year old Julz Lynn is going to skate approximately 2000 miles through the USA! But don't listen to me, hear it straight from Julz herself...
"I will be riding my skateboard along with anyone who would like to join, on a northwest skate journey from Huntington Beach California, with a planned destination of Lincoln City, Oregon. We plan to arrive in Lincoln City in time for the August 10-12 weekend of the World Cup Skateboarding Trifecta Bowl Riders Competition. Not only will this trip be about skateboarding but about progr
ession all around.
It will take thirty days to complete the skateboarding mission. There will be 16 spots mapped out along the path throughout California. There will be 8 listed spots before reaching the destination in Oregon making a total of 24 park stops altogether.
I would like to skate for cancer awareness, healthy transportation, the skate eve-rywhere movement, and as many causes as possible. Click these links for details of two causes my journey will be in support of, and for details of how you can donate:
With this skate, personally I would like to show that I am still pursuing skateboarding and don't plan on ever stopping. I am looking forward to the new light at the end of this trip. I can't wait to see the new knowledge and experience gained to look back on.
Thank you, Julz

562-229-8281
juliekindstrand@yahoo.com
This is just an edited version of Julz full Facebook post about her journey. Go click and 'like' her Facebook page to read much more about Julz and the reasons behind her journey and follow it here
JulzSk8s-Northwest on Facebook





Myself, Chris at The Long Push would like to wish all the guys and girls above, the very best of luck with their journeys/events this year. Please click their links and give them all the support you can.
THIS is the power of skateboarding.
Chris